We greatly treasure those who choose to partner with Impact Ministries and invest their financial resources.
We believe in accountability and transparency in how we utilize the resources entrusted to us to further
the work in Guatemala and God's kingdom. Below is a short summary of our major programs.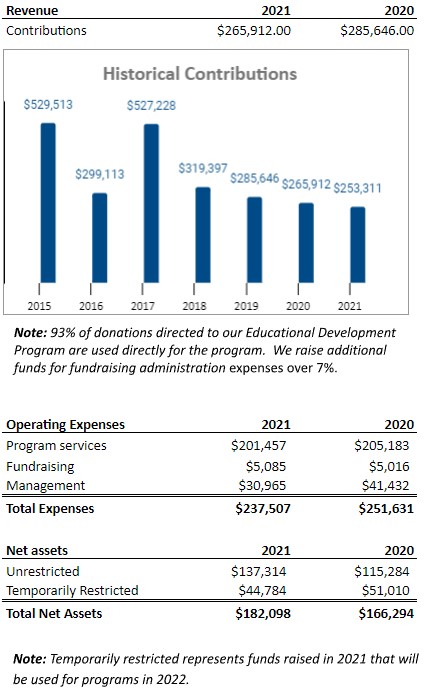 2021 was another year of adjusting to ever-changing
circumstances as we ministered in Guatemala. But God
was not surprised. His plans – far greater than we could
have ever hoped or imagined – used those same
circumstances for His glory!
While Vida Schools did not meet consistently in person,
teachers were able to minister to our students and their
families through home visits and on-line opportunities, as
well as by meeting practical needs. We've seen amazing
growth in the Rio de Vida Churches, especially the
Mocohan congregation, and the Chamche congregation
was able to move to Chisac at the end of the year. The
Impact Medical Clinic was able to arrange for a
Guatemalan doctor to attend the clinic regularly to better
serve ongoing needs. The Vida Children's Home nannies
continued to welcome little ones who needed care. Our
Guatemalan leaders were able to receive training to help
them lead even better.
And you, our Ministry Partners, have continued to give so
very generously throughout 2021. You have been the
hands and feet of Jesus. When you meet needs in
Guatemala, the families respond with "God sees me" and
"God hears my prayers".
Les Peters, CEO, Impact Ministries USA
Resources
2022 Annual Report
2021 Annual Report
2020 IMUSA Report
2019 Annual Report
2018 Annual Report
2017 Annual Report